Christ United Presbyterian Church was organized in San Francisco on May 16, 1885 as the First Japanese Presbyterian Church in San Francisco. It is the oldest Japanese Christian church in America.

In 1886 Dr. Ernest Adolphus Sturge was appointed to serve as Superintendent of Japanese Missions. Dr. Sturge worked with the San Francisco church to develop a statewide mission and local community ministry.
During 1936-1941, the congregation became bilingual as the young American-born Nisei (second generation) were coming of age. At this time, English services were introduced and the first Nisei was elected to the Session.
Upon the outbreak of World War II, Christ Church's members, together with all others of Japanese ancestry, were removed from the West Coast and sent to concentration camps. The majority of our members spent the war years in Topaz, Utah.
In 1945, as the members returned to San Francisco, the church facility was used as a temporary hostel for the homeless returnees. The period from 1945 to 1960 was a time of rebuilding and growth.
1962-1971 was the decade when we made a major shift in the direction and mission of the church. We responded to the nation-wide civil rights movements, and in a demonstration of support, sent our pastor to participate in the historic Selma March in the spring of 1965. The 1960's were also the years when the church, as a part of Japantown, faced relocation because of the city's redevelopment program in the Western Addition.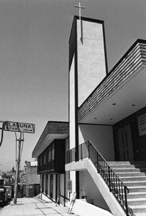 Post Street, Christ Church began its moving and rebuilding phase in 1972. It was in August, 1975 that the present church facility was completed. Our outreach ministry was expanded to address the changing needs of the Japanese American community.
Today, with the increasing number of Asians moving into the community and the city, we are ministering to a broadening racial and ethnic congregation. In the future, we look forward to a church which will build upon our rich heritage as we reach out to the diverse cultures that make up our congregation.