English-Japanese Bilingual Worship Service
Sundays @ 10:00 am
Childcare is available!
English-Japanese bilingual Sunday morning worship services are held from 10:00 am. Our blended style of worship incorporates both traditional and contemporary music.
Communion is celebrated on the first Sunday of every month. A youth-led worship as well as a "Hymn Fest Sunday" (traditional music only) are held once a quarter in order to meet the needs of our diverse congregation.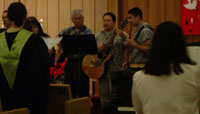 Worship Team
The Worship Team leads the worship in contemporary music using guitars, piano, percussion and voice. If you are interested in joining the Worship Team, please contact us at the main church number, (415) 567-3988.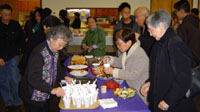 After-worship Coffee Fellowship
All visitors and members are encouraged to stay for our famous after-worship coffee fellowship. It's a time for our visitors to get to know CUPC as well as enjoy some homemade treats.